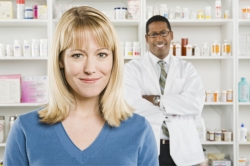 Health Delivery Pharmacy is an independent retail pharmacy that specializes in retail, specialty drugs. We also offer medication management programs for people with complex chronic diseases including Hepatitis, HIV, Multiple Sclerosis (MS), Rheumatoid Arthritis (RA), Dermatological conditions, Diabetics, BP, Heart, Asthma and Gastrointestinal Disorders (GI).
Mission Statement
At Health Delivery Pharmacy, our mission is to provide patients, customers, and peers with personalized, professional, and FREE health advice from our highly trained and courteous pharmacists and health professionals. We strive to maintain the well-being of the local community and its residents with the utmost importance. Our commitment is to offer quality and affordable products from a company with exceptional community and family values.
Vision
Our vision is to be the leading pharmaceutical healthcare provider in Savannah, Georgia.
Why Choose Us
The health and well-being of our clients are our topmost priority. That is why we see to it that we render quality services to our customers fueled with professionalism and dedication.
We sell safe, reliable, affordable, and innovative pharmaceutical products.
We offer free, comprehensive drug education and health advice from our health experts.
Our highly skilled staff members continually receive proper training.
We see to it that we regularly update our brand of service and products according to the current standard. This is to assure our customers will be provided a variety of pharmaceutical services to choose from. As such, it is one of our focus to aid people with chronic health conditions handle their medication through our medication management programs so they may be able to meet their health care needs.
To carry out our endeavor, we have carefully selected our employees through background inquiries and interviews. We also give regular training to further develop our customer service. Rest assured that they are able to lend you our services in a reliable and quick manner.
Health Delivery Pharmacy Promise:
Come and be a part of our Health Delivery Pharmacy family. We promise to go above and beyond your expectations to ensure your satisfaction.
For more inquiries, you can visit our location or you can Contact Us.