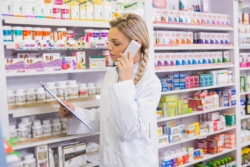 To ensure you stay reminded about your prescriptions, we have implemented a service structured to notify you when it is time to refill your prescriptions. Whether you would like to be notified by phone, call, text, or email, rest assured that you will never forget to refill your medications again.
How it works:
When it is a few days time before your prescription is due to be refilled, or if your prescription order has been filled and ready for pickup or delivery, we will send you a message.
To take advantage of this service, you can Contact Us today.