We provide Durable Medical Equipment (DME) and diabetic supplies for our customers. The supplies available are: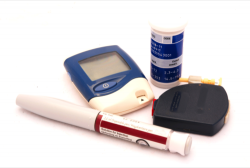 Blood sugar testing monitors
Blood sugar test strips
Insulin
Lancet devices and lancets
Glucose control solutions
Therapeutic shoes or inserts
Also, medical devices available are:
Wheelchairs
Augmentative and assistive communication devices
Commodes
Traction equipment
Walkers
Crutches
and more.
For more information, please give us a call at 912-200-9250.